Why am I worried about clean paws at this time of year?  No – it's not because I'm house proud. With two big dogs, 3 horses and young grandchildren around, that would be daft.  It's actually because of the increasing prevalence of what were once exotic diseases in dogs.   For example Alabama Rot, a potentially fatal disease causing kidney failure.
The cause of Alabama Rot is not known and so unfortunately diagnosing and treating an affected dog can be very difficult. Many of the dogs that died from Alabama Rot had been walking in muddy woodland areas during winter and spring months, so it's thought that wet muddy conditions may somehow be linked to the cause.  It is not the only infection that can be carried on a dog's paws of course – there are plenty of other microbes lurking in the ground that can end up inside the house but most of them are not so harmful.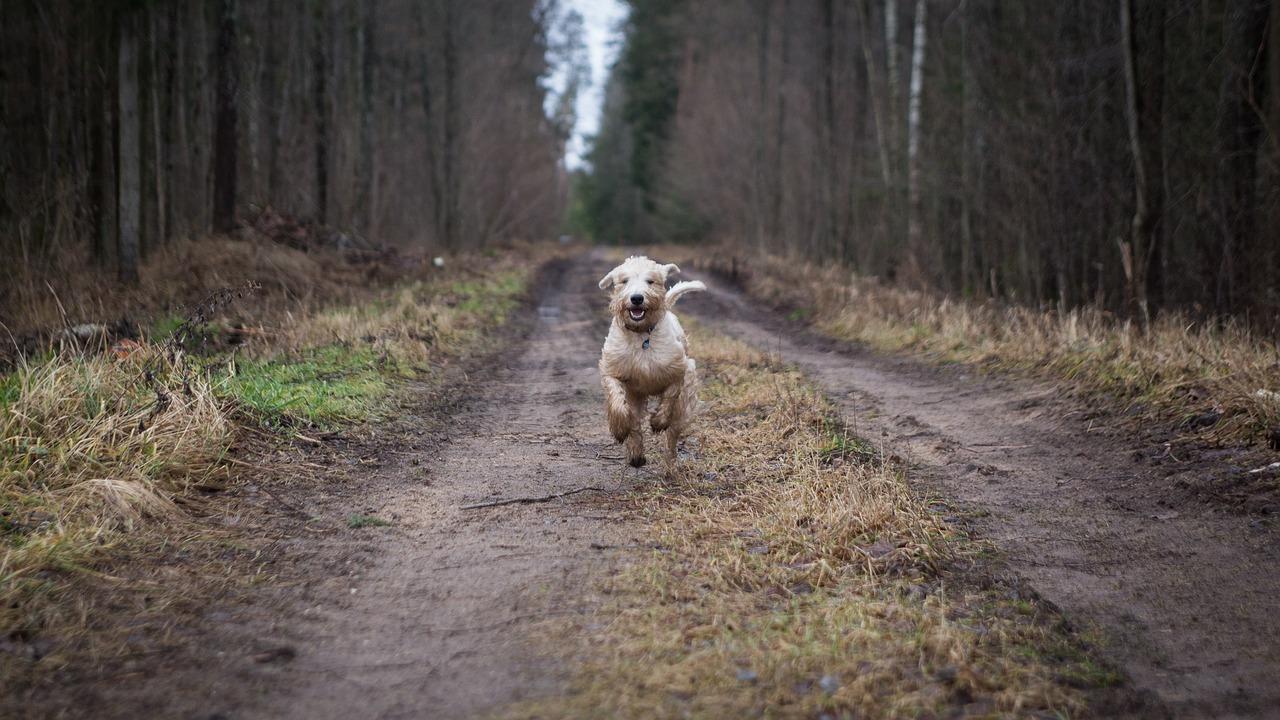 Alabama Rot is a well-publicised,but actually very rare disease that is known to have affected around 150 dogs in the UK between November 2012 and March 2018. Reports of Alabama Rot seem to be on the increase, which may be because more dogs are becoming affected, or that vets and owners are more aware of the condition.
Most cases have been found in the New Forest area but there are reports of incidents throughout the UK.  In fact, a case was reported very locally to us just a few weeks ago - in Westbury, Wiltshire.
As we are approaching winter, I want to be sure that my dogs are protected from this fatal condition so I endeavour to clean their feet after every walk, whether fields or woods. The way I have found to do this quickly and effectively is by using a combination of a special paw cleaning plunger and my own formula shampoo, which I have been perfecting for over a year.  I call the combination PawPal.  It's very simple but it has a host of advantages over other cleaning methods.
I previously sprayed the dogs with the garden hose, outside the back door, but not only did they hate it, especially in cold weather, but it was difficult not to soak their legs and undercarriage at the same time.  It also left the ground area sopping wet so everyone walked through a puddle to get in the house.  I think spraying like this is only called for if the dog is thick with mud – it's not something I would want or need to do after each walk.
I have also used the towel method – you can get some good dog towels which soak up moisture efficiently, leaving them reasonably dry and clean enough to come in. The Snugglesafe microfibre towel range is a good example. However, the dogs may seem clean but there are still plenty of soil particles clinging to their paws with accompanying microbes.
This is why I use a method that washes the paws on a small scale but efficiently enough for soil particles, seeds and other foreign bodies to be shaken free. The washing pot is a simple construction with finger like projections on the inside.  You fill it with hand hot water, add a squirt of the shampoo and place the dog's paw inside.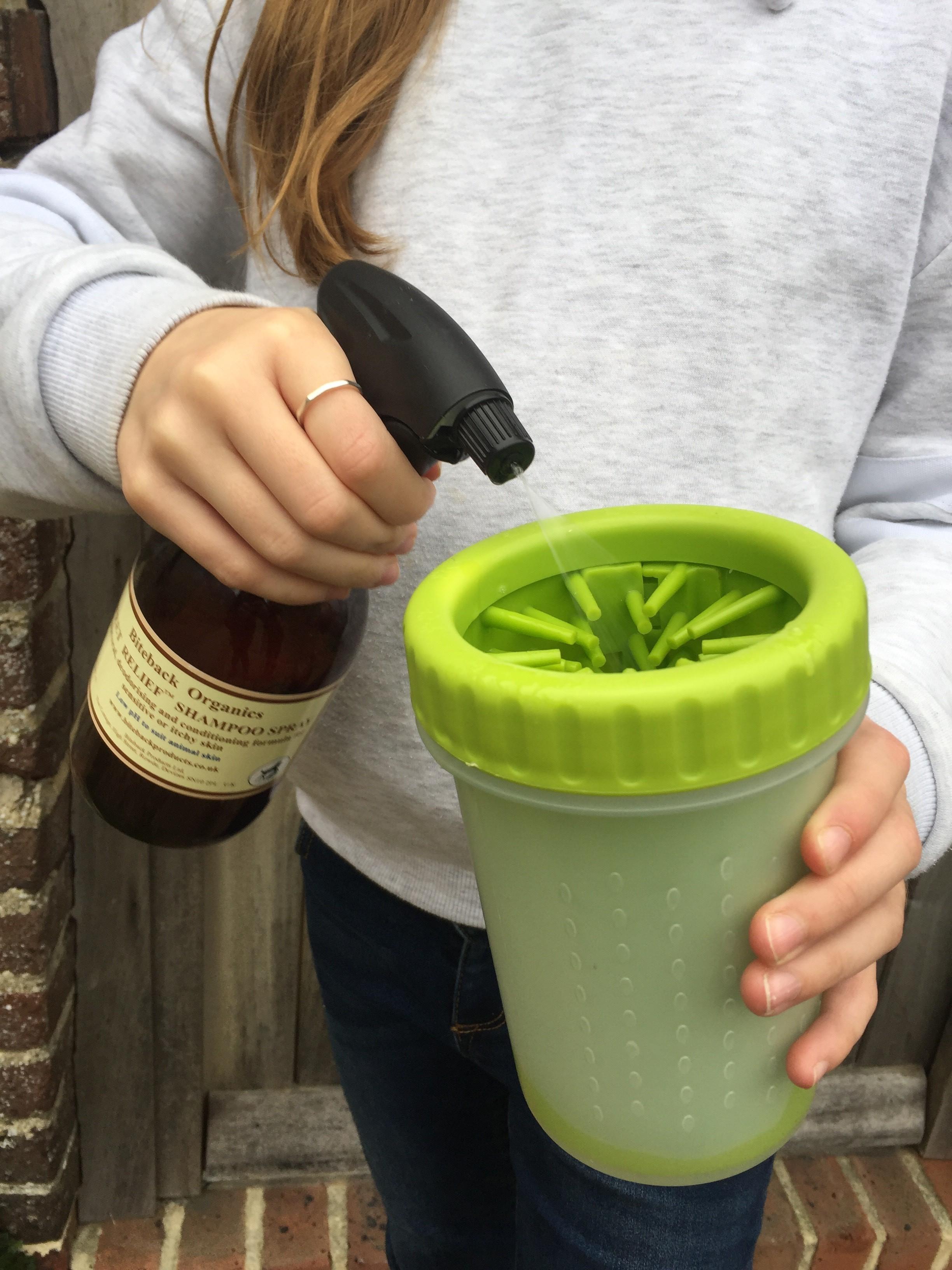 Then you gently and vigorously move the pot up and down so that you agitate the solution and allow the paw to be massaged clean by the plastic fingers.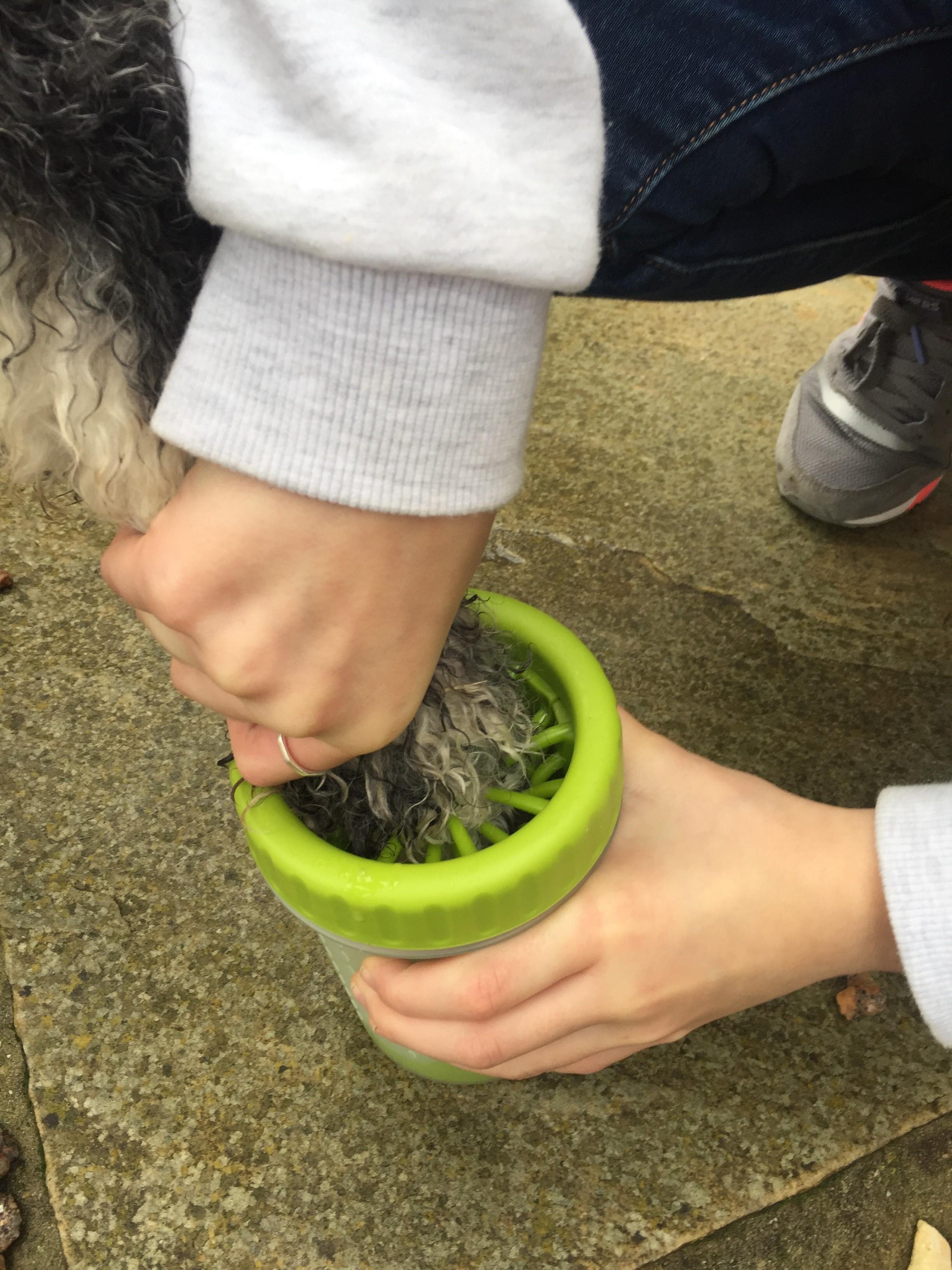 I always place the dog on a thick old towel or bath mat as the water will overflow from the pot – but this is fine.  I then move onto the next foot and do the same job.  I probably spend about 5 seconds on each paw. When they're all done, I reach for a drying towel and blot them dry – again very quick and easy as you've used hot water and the bath mat has absorbed much of the wetness.  THERE IS NO NEED TO RINSE. This is because I have designed the shampoo to be able to be left in the coat with no ill effect.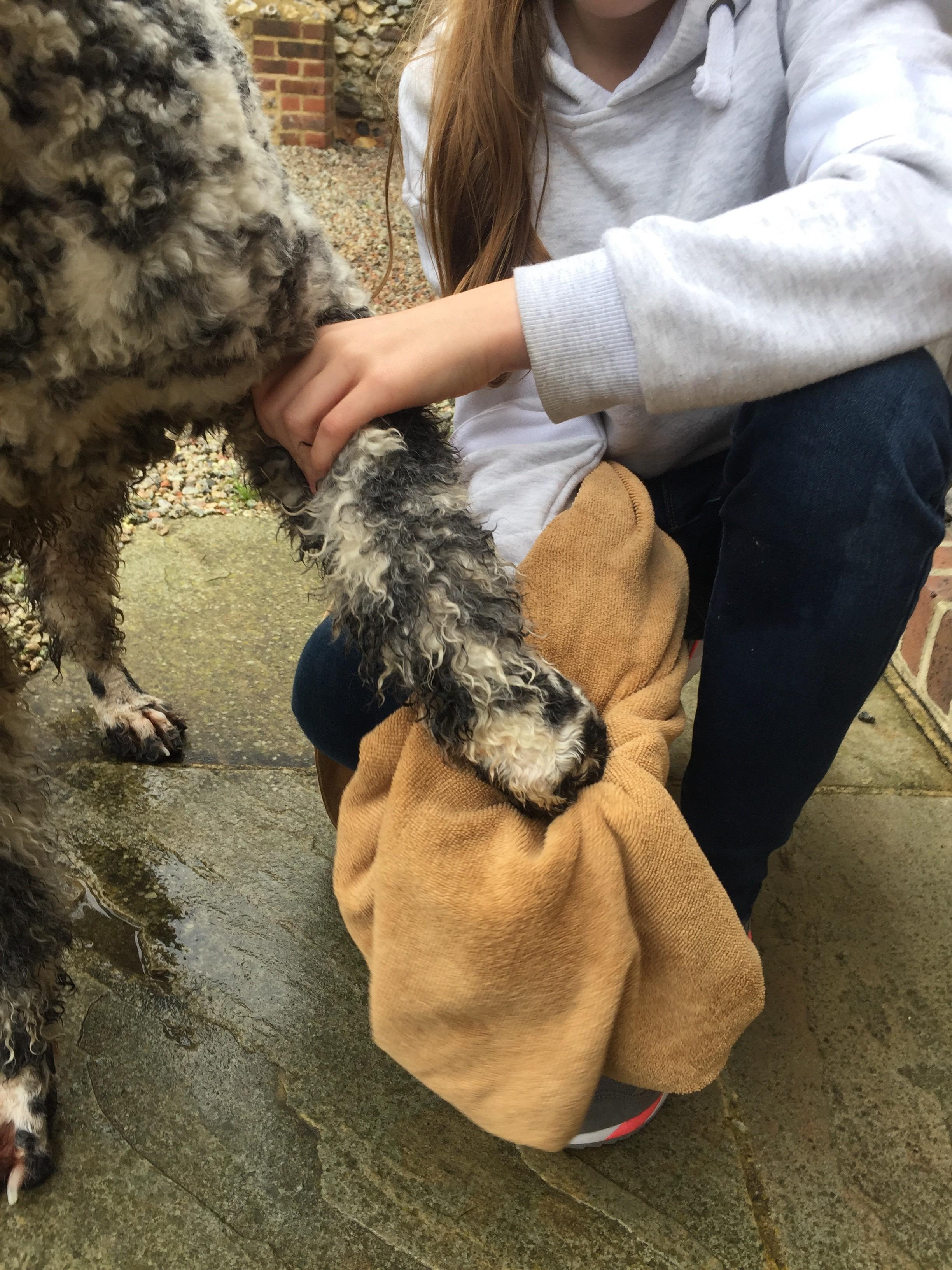 What's so special about the shampoo?
It's an ultra-mild formula that will not irritate your dog's skin so it doesn't need to be washed off the paws
It contains a natural deodorant, made from yeast
It contains a mild anti-dandruff agent which conditions the skin and hair
It is naturally anti-fungal so will inhibit the growth of some problem microbes
The ingredients are COSMOS approved and/or ORGANIC and completely biodegradable so you can really trust this formula to look after your dog's skin.
I can't tell you what a difference this paw-cleaning method has made to our lives!  It is quick, easy and I now have real peace of mind that I'm doing what I can to protect our boys from this horrible disease.  Oh - and as an added bonus, our carpets and sofas are (marginally) cleaner too!
© Kath Shaw 2019